Victaulic Grooved Pipe Coupling
Save time & reduce risk with this new grooved mechanical system for steam piping. The spring-energized polytetrafluoroethylene (PTFE) composite seal offers excellent temperature and chemical resistance. It can handle steam systems up to 200 psi/1379 kPa.

Types: Coupling, Grooved End Fittings, Gate Valves, Flexible Loops
Use: Available for steam systems up to 200 psi / 1379 kPA
Capacities: 2" to 8" / DN50 – DN200
Reduce labor costs

Easy to maintain

Non certified welders needed

No fire watch or hotworks permit needed

No pre-heating pip in cold weather

No x-ray joints required

Also available, grooved end fittings, gate valves, flexible loop, and groove and roll sets
Free Float – SS Series:
Free Float® offers continuous discharge and are optimal for processes.
TLV originated the concept of using a perfect sphere as a valve mechanism, supported by the high-quality precision production technology to make it possible. The result was the Free Float; a device simple in construction, with only one moving part, yet possessing amazing durability and sealing properties delivering performance, energy savings and long life.
Superior performance for modern industry
Longer service life
Greater energy savings
Improved quality
Increased productivity
Enhanced environmental conservation
Thermodynamic Steam Traps – Disc-Type: Steam traps that utilize the difference in the thermodynamic properties of condensate and steam – known as "disc traps."
Thermostatic Steam Traps – L-Series: These traps utilize the difference in the temperatures of steam and condensate, which are also known as "temperature control traps" or "balanced pressure traps."
PowerTrap: A Condensate recovery mechanical pump with integral trap requiring no electricity 
Operating Pressure Range: Vacuum – 200 psig

Operating Temperature Range: 32 – 392 °F
Pressure Reducing Valves: Pressure reducing valves for steam and air. A wide assortment of models is available, including pilot-operated models, direct-acting models and models with integral separators and steam traps.
Operating Pressure Range: -12 – 300 psig

Operating Temperature Range: 32 – 428 °F
Filters: All stainless steel filter with built-in cyclone separator efficiently removes condensate and impurities from the flow medium, resulting in no moisture droplets and a longer cleaning or replacement cycle.
Operating Pressure Range: 0 – 150 psig

Operating Temperature Range: 32 – 365 °F
Cyclone Separators: Separators are used to remove entrained water from air or steam as it is transported. Various types are available, ranging from models with integral traps to compact stainless steel models. TLV Cyclone Separators all support inline installation.
Operating Pressure Range: 0 – 550 psig

Operating Temperature Range: 32 – 650 °F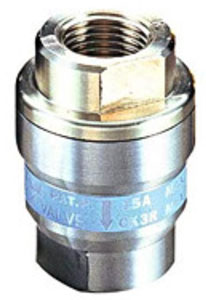 Check Valves: Check valves for steam and other fluids. Disc and spring construction assures stable performance with installation in either vertical or horizontal pipelines. Automatic valves for preventing backflow.
Operating Pressure Range: 0 – 425 psig

Operating Temperature Range: -148 – 662 °F
Air Vents: Includes both air vents for liquid and air vents for steam. These automatic valves for air removal make use of the same reliable technology utilized in our steam traps.
Operating Pressure Range: 1 – 300 psig

Operating Temperature Range: 32 – 455 °F
TLV PowerTrap
Condensate Recovery Pump – GT Series (closed system)
This pump is mechanically operated with steam or compressed air and does not require electricity. Effective at eliminating pooled condensate from inside equipment.
Ideal to transport high temperature condensate

Pumping condensate from low-pressure areas to high-pressure areas

Minimum height requirement to ensure condensate flows naturally 
Condensate Recovery Pump – GP Series (open systems)
The PowerTrap® is a pump that transports condensate, powered by pressure from steam or compressed air without the use of electricity.
It is ideal for use in open systems* which collect condensate from steam-using equipment for the purposes of recovering heat energy and recycling treated water.
Can collect and transport condensate from multiple equipment

Suitable for use on equipment situated at low levels

Requires installation of a separate steam trap for each piece of equipment

Requires a vent line to discharge flash steam to atmosphere