Quality Boiler Feedwater for Reliability
Ensure your boiler system has the proper support equipment to meet the demands of your steam process. 
Cleaver-Brooks Deaerators
If your system has moderate to high steam loss, a deaerator is a must for a reliable steam system. Deaerators remove dissolved oxygen and carbon dioxide from the boiler feed water, which reduce chemical consumption and blow down, thus saving energy and extending boiler life. In addition, a deaerator preheats boiler feed water, reducing the effect of thermal shock to the boiler.
Cleaver-Brooks manufactures three different styles of deaerators with capacities of 7,000- 500,000 lb./hr: the tray-type (TrayMaster), spray-type  SprayMaster and packed column (Boilermate).
Check out the ADAC Deaerator Control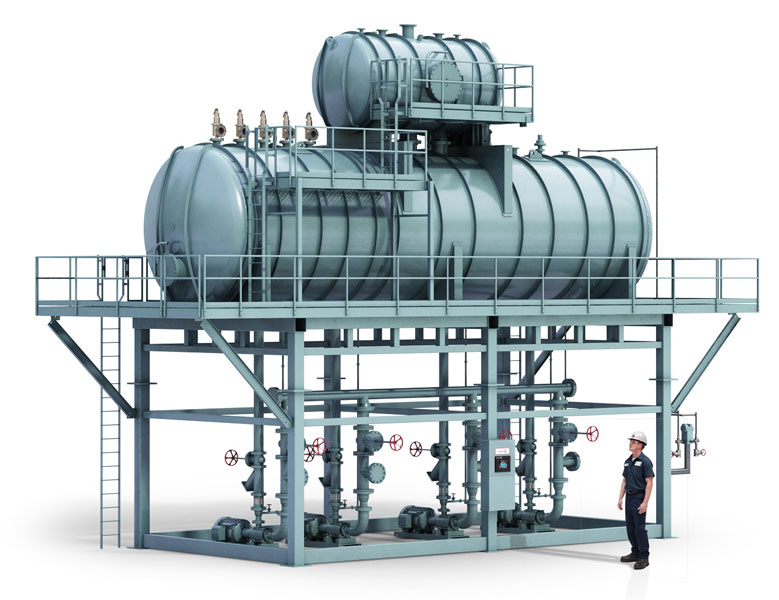 TrayMaster – Model TMV & TMH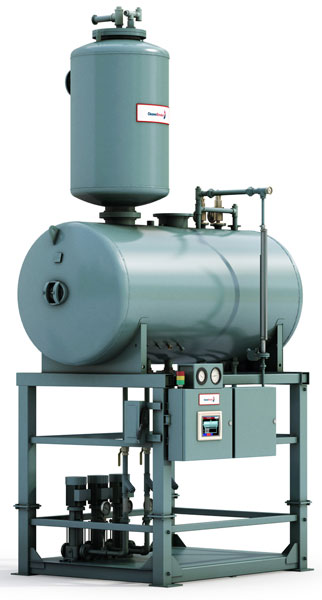 BoilerMate Deaerator – Model BM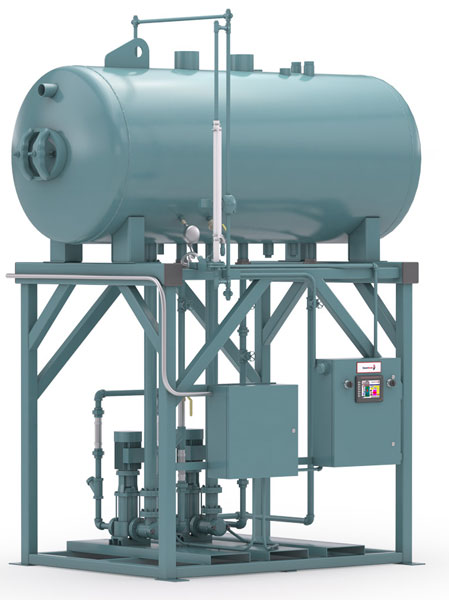 Cleaver-Brooks Surge Tank
If your steam system is very large a surge tank may be required to save your valuable condensate. A surge tank can provide additional storage to handle large volume swings that may exceed the capacity of your deaerator. 
The surge tank system includes the tank and stand, in addition to factory-piped and wired transfer pumps.  The System can be integrated with the ADAC control to provide complete control of the deaerator, surge tank, pumps, level control and makeup.  
Size: 300 – 3,600 gallons
Use: Steam applications
Atmospheric Boiler Feed Systems
Cleaver-Brooks Boiler Feed System
Maintain efficiency and prolong the life of boiler when a deaerator is not practical. We can customize any system to your application. 
Consisting of one or more feed pumps and a corrosion resistant receiver tank, the system automatically supplements condensate with makeup water to replace system losses. 
Type: Atmospheric pressure
Use: Steam and hot water applications
Size: Up to 1,000 gallons 
Specifically designed for compatbility with Cleaver-Brooks boilers 

All pumps have mechanical seals 

Provides additional storage time and handles volume swings in condensate return 

Boosts condensate return pressure

Accepts gravity returns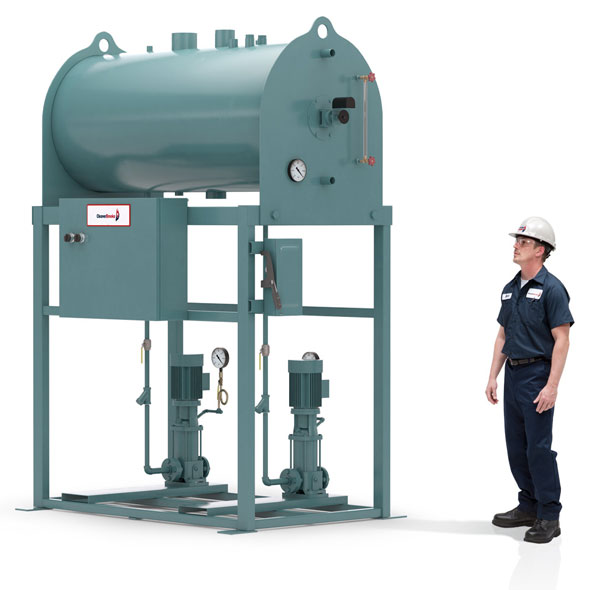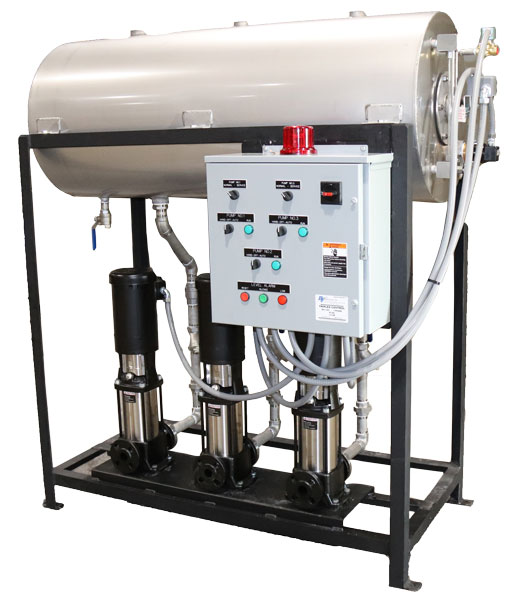 Fabtek Boiler Feed Systems 
Fabtek manufactures quality boiler feed systems with quick lead times and competitive costs.  They offer multiple boiler feed system configurations such as horizontal, low-boy, and vertical tank designs. 
Fabtek specializes in stainless steel construction and can provide stainless steel boiler feed systems at very cost competitive prices compared to those offered in carbon steel.
Type: Horizontal, Low-boy and Vertical tank designs 
Use: Steam applications
Size: To over 1000 gallons
Grundfos Boiler Feed Pumps (CR)
Offering a basic range of CR pumps and an extended range of more efficient, more robust addition to the CR series that features component optimizations for leading energy efficiency and pump reliability. 
Grundfos offers a full line of pumps perfect for boiler feedwater applications. The CR series can handle a large range of flow rates and discharge pressures. It is also available in a Low NPSH model reducing the need for tall feed tank stands.
Type: Multi-stage centrifugal pumps, boiler feed, VSD applications, booster systems. 
Use: For industrial processing systems, filtration systems, pressure boosting, water treatment and HVAC
Size:  Up to 700 GPM
DP Pumps
DP Pumps has a complete range of pumping systems and stainless steel pumps in vertical, horizontal, multi-stage configurations for boiler feed, process water, and heavy industrial supplies.
Over 400 pumps are stocked in U.S. for next-day shipment with many models offering a direct replacement for Grundfos
Types: Vertical, horizontal and multi-stage designs
Uses: Hot water and boiler feed applications for buildings, process, domestic water supply, and more.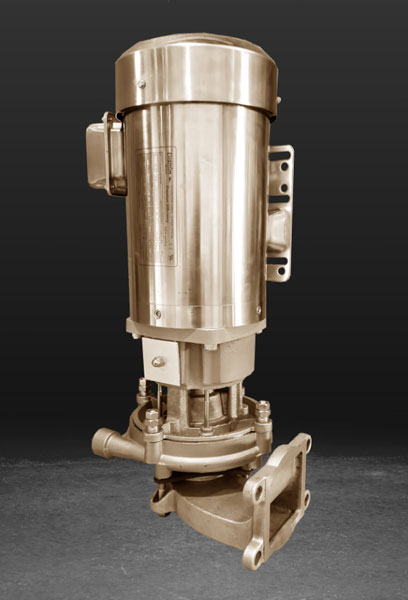 Fabtek Boiler Feed Pumps
Fabtek's Stainless Steel Flange Mounted Centrifugal Pumps are designed for higher flows and lower viscosity liquids. The flange mounted pumps feature high-grade stainless steel to create the longest lasting pumps. very centrifugal pump includes an impeller that is rapidly rotated to impart velocity to the pumped liquid.
As a result, centrifugal pumps are more cost-effective and reliable when compared to positive displacement pumps.
Type: Horizontal elevated and floor designs, Vertical elevated design and 
Use: Commercial boiler rooms
Size: For boilers 1 – 700 HP and capacities to 100 GPM
Temperature: up to 250°F