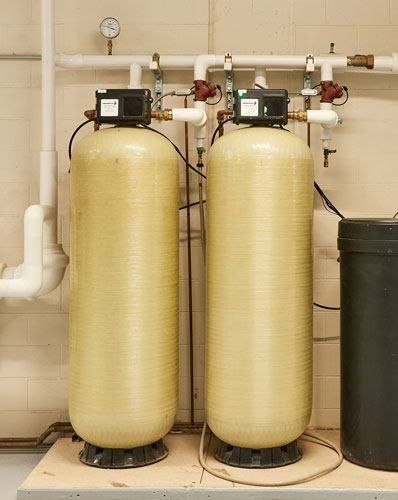 Cleaver-Brooks Water Softeners
Removes water hardness through ion exchange preventing scale buildup on heat transfer surfaces while maintaining peak boiler efficiency
Size range: From 20,000 to 1,500,000 grains exchange capacity
Use: Steam and hot water applications
Nelson Water Softeners
Nelson Corporation offers a full line of commercial and industrial water conditioning equipment including water softeners, dealkalizers, reverse osmosis systems. Units are locally manufactured and offer competitive pricing with quick deliveries.
We offer 24-hour service for Nelson water softeners and replacement Nelson water softener parts are readily available.
Size range: From 15,000 to 1,200,000 grains capacity
Use: Steam and hot water applications
Flow rates: Varies 
Tank sizes: Up to 72"
Cleaver-Brooks Dealkalizers
Dealkalizers remove the majority of bicarbonate alkalinity in softened water supply. This controls formation of carbon dioxide in the boiler, the major cause of condensate line corrosion.
Size range: From 10,000 to 980,000 grains capacity
Use: Steam and hot water applications
Flow rates: from 10 to 300 gpm
Tank sizes: From 9" to 72"
Cleaver-Brooks Filtration Systems
Remove impurities with a filtration system and mitigate equipment servicing, cleaning and inefficient performance.
Size range: From 50,000 to 100,000 grains capacity
Use: Steam and hot water applications
Flow rates: from 2 to 800 gpm
Tank sizes: From 9" to 72"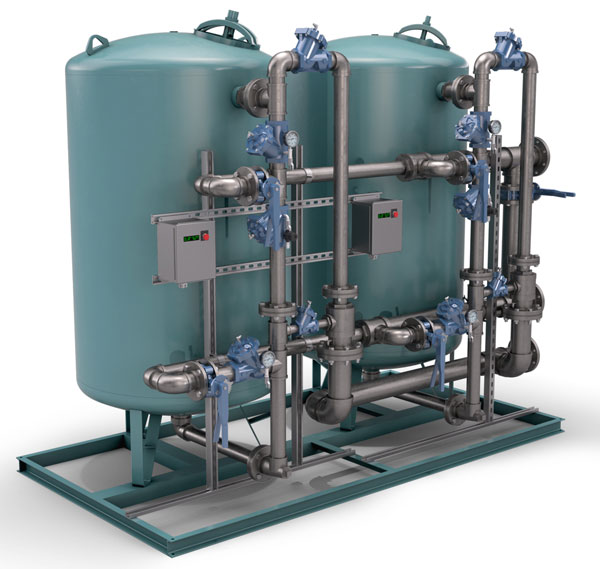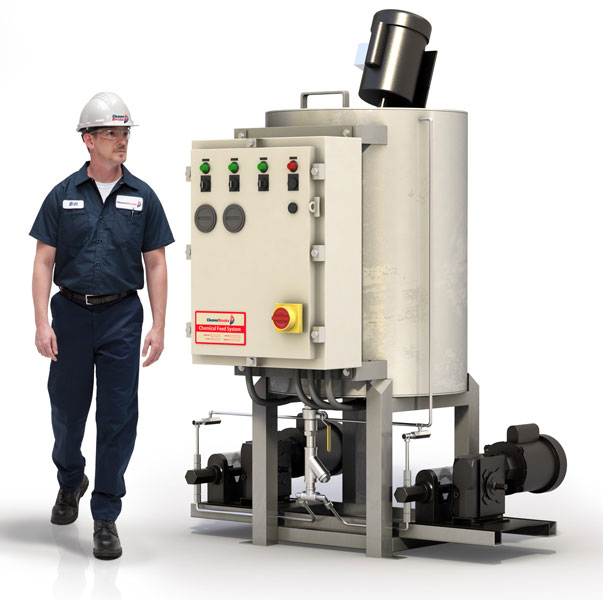 Cleaver-Brooks Chemical Feed Systems
Chemical feed systems treat feedwater and condition blowdown sludge when an extra measure of protection against corrosion is necessary.
Size range: For any boiler size
Use: Steam and hot water applications
Walchem Water Treatment Controllers
Analytical instruments and electronic metering pumps for chemical pumps, tanks and boiler feed systems. Walchem provides versatility in water treatment control with the integration of sensor, pump and electronic technologies.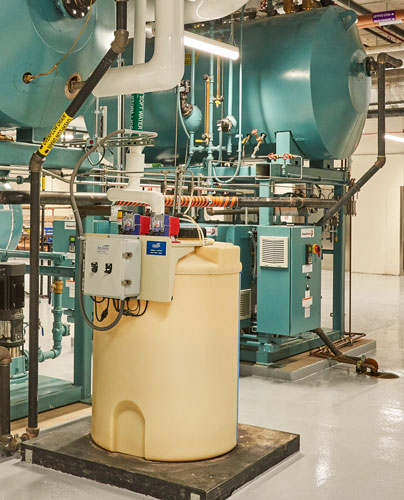 Cleaver-Brooks Blowdown Separator
Prevents scale and buildup of harmful solids by rapidly separating steam from the blowdown water and vented out the top of the blowdown separator in a cyclonic spinning action. 
Cleaver-Brooks blowdown separators are compact and can be quickly installed with few connections. 
Use: Steam boilers
Pressure: Up to 1,600 psig available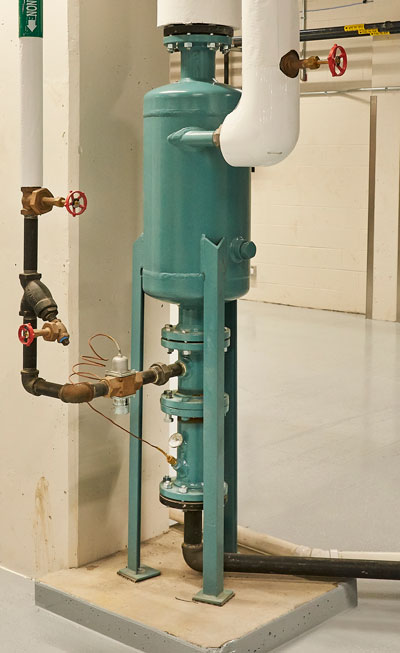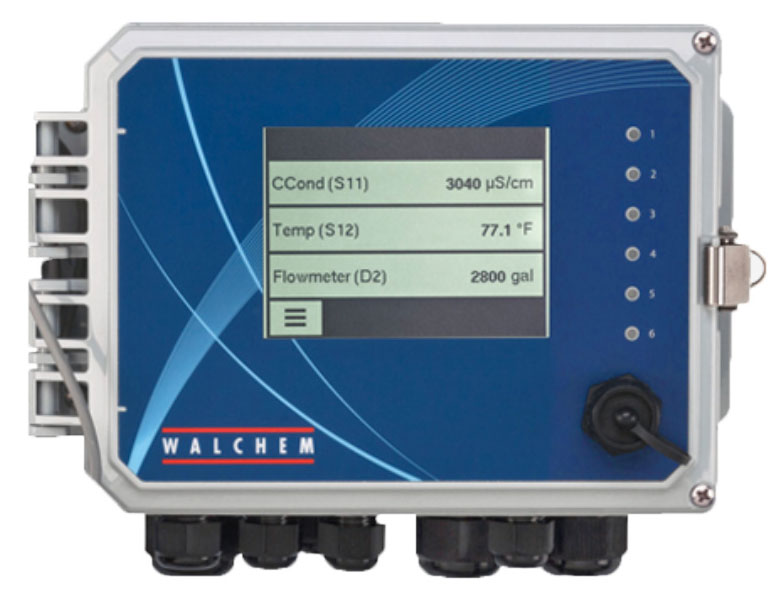 Walchem Surface Blow Down Control
Boiler surface blow down is a vital operation of all steam boiler systems. Surface blow down removes the suspended solids left floating on the top of the boiler water (which were created from the evaporation process).
Without skimming the surface of boiler water line, foaming, priming and wet steam can occur, contaminating your steam supply and possibly damaging your boiler. We offer automatic surface blow down controls furnished by Cleaver-Brooks and Walchem.
Cleaver-Brooks Surface Blowdown
Heat Recovery
The energy lost in surface blow down can add up to a significant amount of fuel costs.  A Cleaver-Brooks flash type heat recovery blow down system can recover up to 90% of the energy in the surface blow down before it goes to the drain. Contact Energy Control  to obtain a payback analysis to find out how a surface blow down heat recovery unit can pay for itself and start saving you money.
For steam applications

Captures waste heat from blowdown process  Preheats cold makeup water

Preheats cold makeup water

Up to 22 gpm blowdown

Up to 180 gpm makeup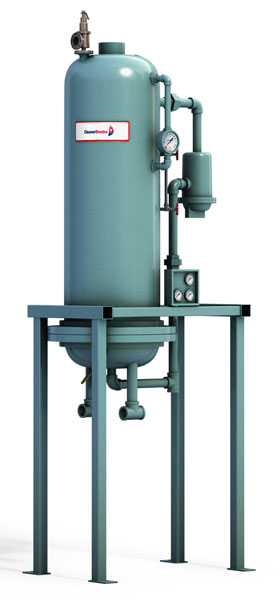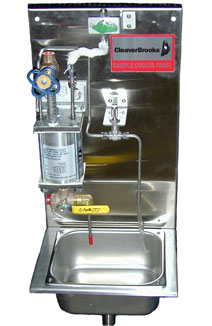 Blowdown Sample Coolers
Surface blow down sample coolers are a vital tool to safely test your boiler water quality and to properly maintain your boiler water chemistry. Sample coolers are small heat exchangers designed to cool the surface blow down so that it can be safely tested.
We offer sample coolers manufactured by Cleaver-Brooks, Sentry, and Madden.