Integrated Boiler Controls, Water System Controls,  Pump Controls and Remote Monitoring
Cleaver-Brooks offers offers a full line of integrated boiler controls, communication systems, packaged water controls, water level controls and stand-alone controls for new or retrofit applications. Increase efficiency, reduce fuel costs and decrease emissions with control systems designed to get the most out of your boiler room.
Integrated Boiler Controls
Hawk ICS –  is a totally integrated control system embodying precise boiler/burner management control and safety with logic based ancillary devices and functions. The result is a coordinated system which maximizes efficiency, reduces operating costs, and increases productivity; delivering critical real time and historic information with the touch of a screen!
Using today's state-of-the-art technology, the CB Hawk ICS soars to a new level, combining a highly powered high speed processor with sophisticated inter-communication protocol ("Ethernet/IP") for controlling and monitoring all of the important boiler system operating and safety functions in one synergistic, expandable package.
Features & Options Include:
Touch Screen HMI

O2 Trim and Monitoring

Multiple Boiler Lead/Lag sequencing

Variable Speed Drive and Parallel Positioning Control

Email & Phone Paging

Buildi

ng Management Interfacing
The Cleaver-Brooks Prometha serves as your central communication solution bringing all of your information into one place to help ensure safe, reliable, efficient and sustainable operations.
Centralize your boiler system information in one place to ensure safety, efficiency, reliability, and sustainable operations. Remotely monitor boiler systems from anywhere, providing alerts and insights to stay informed, reduce emissions, and simplify compliance. Simple installation, at-a-glance dashboard, and assign roles and multiple users to fit your organization.
The Cleaver-Brooks Hydronic System Control (HSC) allows facilities to maximize operating efficiency and minimize the operating cost of hydronic systems. By measuring outside air temperature along with the temperatures of the return water, the condensing boiler's header and the supply water, the HSC determines the most efficient operation of your boiler system and operates it safely and reliably. 
The HSC uses complex algorithms based on temperature data to determine if it is best to operate only condensing boilers, only non-condensing boilers or a combination of both in a true hybrid system. It can be used in a primary flow, primary-variable flow or primary-secondary flow design for both new and existing systems.
Advanced Deaerator Control (ADAC) – monitor and manage all water-related touch points including pumps and level controls. Complement and automate your deaerator system with a deaerator control system. The Cleaver-Brooks Advanced Deaerator Control (ADAC) is a PLC based system providing a complete integrated control of the deaerator including level control, pump operation, pressure control, and building management system interface.
Pump operation (Variable speed or alternation)

Level control

Steam pressure control 

Chemical feed control

Annunciation, alarms

Touch screen programming

Building management interface
The Level Master designed and manufactured by Cleaver-Brooks is a "state-of-the-art" boiler water level control system.  With its electronic control and floating ball magnetostrictive level sensing technology, the Level Master is designed from the ground up to be a safe, reliable solution to boiler level control. 
The Level Master has built in safety protocols such as stuck float alarm, manual blowdown logging with alarm, and history logging, making the Level Master one of the safest controls on the market. Other features include on/off pump control, 4-20ma feed water valve control with no slide wires, or mercury switches. 
The Level Master is designed and ready to be installed as a retrofit to your old existing McDonnell & Miller or Magnetrol mechanical float type level control.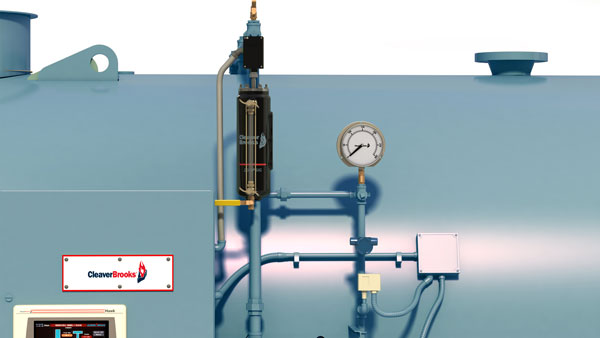 Feed Water System Control
LCS150e.1 1-Tank Level Control
The Cleaver-Brooks LCS150e.1 is a PLC electronic level control system using 1 or 2 modulating valves to maintain water level in a single tank in steam applications.

LCS250e.1 2-Tank Level Control
The Cleaver-Brooks LCS250e.1 is a PLC electronic level control system using 1 or 2 modulating valves to maintain water level in a two-tank system in steam applications.
 
The Cleaver-Brooks PCS140e.1 is an intermediate pump control system with virtually unlimited flexibility. Use this system on any deaerator, boiler feed system or surge tank.  This simple pump control system features lead/lag sequencing on a timed rotation, "first-on, first-off" basis, or manual rotation. 
Industrial Boiler Controls
For specialized applications and any boiler size, Cleaver-Brooks can provide state-of-the-art hardware and programming for safe, reliable and efficient operation with a user-friendly interface. 
Custom control systems saves energy

Completely custom PLC control

Color touch-screen controls

For highly specialized applications

For any size boiler or application