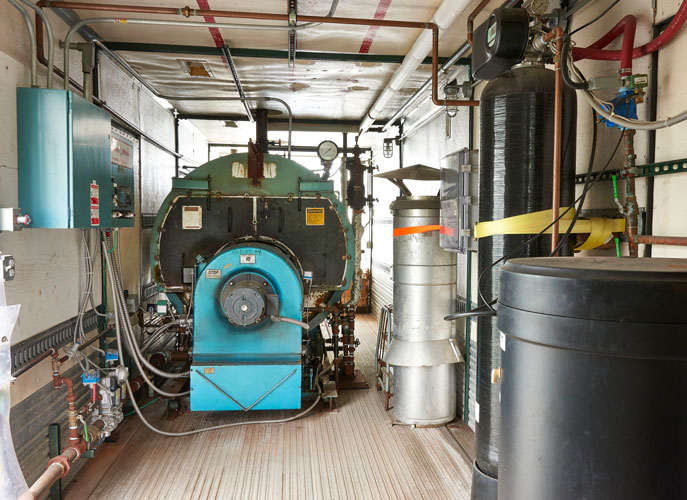 Mobile Steam and Hot Water
If you need temporary steam FAST, you've come to the right place. Energy Control has an entire fleet of boiler rental trailers at your disposal. Whether an emergency or a planned boiler shut down, we have the steam you need. 
Mobile Boiler Rooms
The rental boiler trailer comes complete with the boiler, feedwater system, pumps, water softener, chemical feed system and blowdown separator all piped and wired in a semi-tractor trailer.
Just have the rental boiler delivered to your door, and connect the power, water, and fuel.  You have steam where you need it!
Cleaver-Brooks Ohio Special Steam Solutions
Ohio Special Boiler is designed to be operated in the State of Ohio without the requirement of a licensed boiler operator. The rental boiler trailer comes ready for connection of three phase power, fuel, steam piping, condensate return, water, and drain. Our boilers can be operated on natural gas or #2 oil.
Our fleet of rental boilers include Cleaver-Brooks 200 or 225 Hp Ohio Special steam boilers, producing up to 7,765 lb./hr. Design pressures are 150 PSIG or 250 PSIG. 
Hydronic Mobile Unit
The mobile unit includes a 2,000 MBTU high-efficiency Cleaver-Brooks condensing boiler with all the necessary piping, venting and controls. 
Boiler Support Rental
Deaerators and feed tanks are available for temporary needs 
Short-term or long-term boiler rentals are available

For our Ohio Special boilers, no boiler operator is required

Emergency? No problem. We offer quick delivery for units in Ohio

Installation, startup and service

is available in all major cities in the United States

We use high-quality Cleaver-Brooks boilers, the best in the business

Lease to own or used boilers are also available for purchase
For Immediate Assistance, 888-893-0284
Not seeing the Rental unit you need? We have options. 
Cleaver-Brooks offers a wide-range of steam and hot water mobile systems for immediate delivery.